Virus outbreak spurs digital transformation in economy
By Zhao Shiyue | chinadaily.com.cn | Updated: 2020-04-01 17:39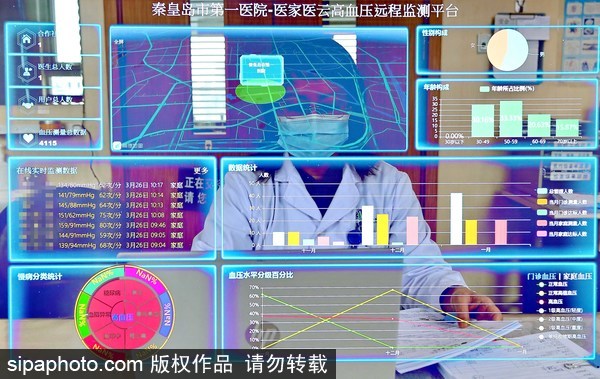 Delivering goods, remote working and tele-medicine have gone viral during the novel coronavirus outbreak, and the booming of new business models has stimulated enterprises to accelerate digital transformation for better company management and customer service, which further promotes the upgrading and optimization of the Chinese digital economy, according to Wang Wenjing, the chairman of Yonyou, China's leading software company and cloud service provider.
Catering industry
In the past two months, the catering industry has been severely stricken by the epidemic with offline sales declining sharply, while restaurants are altering their operation strategies, in a bid to explore business opportunities in the online market.
Haidilao, the renowned Chinese hotpot chain restaurant, closed its 550 offline stores during the virus outbreak, but moved the majority of its business to online platforms. The restaurant has resumed delivery service since Feb 15 in Beijing, Shanghai and several cities in China. Two weeks later, Haidilao released its fast food packages for sale online, and livestreamed eating hotpot on e-commerce platforms, attracting 2 million viewers in four hours.
To monitor restaurants operation on a real-times basis, Yongyou cooperated with Haidilao to build up the HUO-SaaS platform, offering a all-in-one management of different application scenarios including front desk, kitchen, store with data analysis on dishes, orders, income, staff, etc.
According to the China Cuisine Association, the catering industry in China is transforming its developing route from continuous expansion to intensive growth based on customization and digital service.
With the construction of smart cities, information and digital technologies such as 5G, internet of things, big data, artificial intelligence and blockchain will play an increasingly critical role and be widely applied in restaurant management.
"In the short term, the epidemic will definitely have a negative impact on restaurants, but it offers an opportunity for the industry to transform," said a report jointly issued by the China Cuisine Association and Deloitte.
"First, the catering industry will accelerate its digital transformation, which could empower restaurants to improve operational efficiency in supply chain and marketing channels. Second, the customer group could be enlarged to both online and offline." The third point, noted in the report, "new consumer habits are emerging under the influence of the epidemic, which stimulates the boom of new business models, such as noncontact and individual dining. "