Recovery of China's tourism sector focus of online conference
By Xu Lin | chinadaily.com.cn | Updated: 2020-02-21 17:30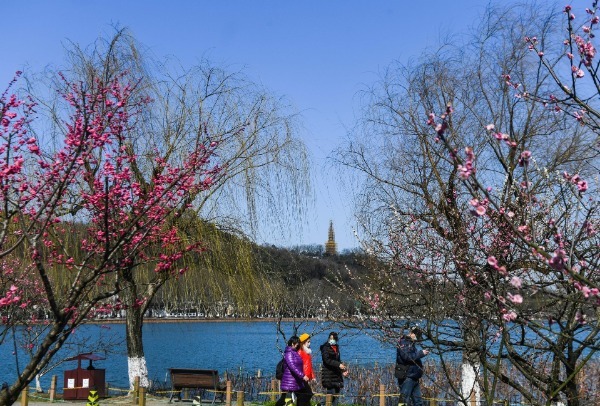 Dozens of tourism experts in the country joined an online news conference about The Blue Book of China's Tourism Economy 2020 on Thursday, and delivered keynote speeches about the recovery of China's tourism industry upon and after the outbreak of the novel coronavirus.
According to China Tourism Academy, due to the impact of the pneumonia, it's estimated that in the first quarter of 2020 and throughout 2020, the domestic visits will decrease by 56 and 15.5 percent respectively, and the tourism income of 2020 will drop 1,180 billion yuan ($167.72 billion).
In 2020, the inbound visits will decrease 50.32 million and tourism income will fall $53.4 billion. Also, the outbound visits will decrease 27.63 million.
"Based on our estimation, we're relatively optimistic about China's tourism economy for 2020. It's highly likely that tourism consumption in China will rebound. Many subjects of our recent surveys said when the epidemic ends, they will take a tour," said Dai Bin, head of China Tourism Academy.
"Thanks to preferential policies of the government, tourism corporations have shifted from their previous pessimistic attitudes to taking measures to save themselves and help each other through the difficult situation,"he said.
According to him, some companies are promoting tourism online to foster potential visitors, some airlines have provided chartered plane services to transport staff members to return to work, and some scenic areas have promised to offer medical workers free tickets as their corporate social responsibility.
Wu Fenglin from the China Tourism Academy said the epidemic's impact can be an opportunity for China's tourism industry to transform and upgrade, but for tourism companies, only those who survive the winter will be able to see the upcoming spring.
"It's essential to combine tourism with leisure. Most people are staying at home so as to curb the spread of the virus, but their demands for leisure always exist and they have more time for it. Tourism corporations can livestream beautiful scenery or offer some classes to enrich people's lives," he said.