Emergency team plays key role in Wuhan battle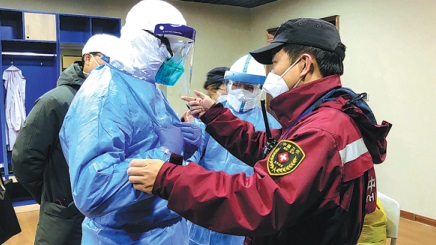 Counseling service makes important contribution at temporary hospital
Editor's note: Over 270 teams comprising more than 32,000 medical workers had arrived in Hubei province from across the country. China Daily chronicles their work in a series of interviews with the doctors and nurses.
After a five-hour drive from neighboring Hunan province, Xu Junmei and his colleagues were the first of 22 emergency medical teams to arrive in Wuhan, Hubei province, on Feb 4 to run temporary hospitals in the epicenter of the novel coronavirus pneumonia outbreak.
They had been summoned to the stricken city the day before.
The hospital where they work has been converted from a major sports stadium in the city's Wuchang district. They arrived so early that the conversion work had yet to be completed.
Their first tasks were to have tents erected outside the stadium, arrange for facilities to be set up and examine wards prepared for patients.
The temporary hospital accommodates more than 700 patients who have tested positive for the disease but who exhibit no severe symptoms. They have also tested negative for flu viruses, to ensure that there is no cross-contamination. Four doctors and 12 nurses care for every 50 patients.